Anycubic 3D - Photon S LCD Printer
3D print fine details at a good price now. The Anycubic Photon DLP is a 3D printer equipped with an easy to use 2.8 inch color touch screen. It works with resin. DLP stands for Digital Light Processing. During this process an UV light source is used to harden liquid resin (polymerize). Realize fine structures now.
Main product features:
Realize fine details
Uses UV light source to polymerize liquid resin
Integrated slicing software
High resolution 47µm
Large 3D print size of 115 x 65 x 155 mm
The original Anycubic Photon was a phenomenal success, hitting the mark as an affordable hobbyist resin printer like no other. Excellent print quality and simple user operation made it a go-to for those in need of detailed prints and cost less. Photon slicer brings extraordinary using experience. A 30M stl file will minutes when you use a open-source slicer. While photon Slicer will finish this job wthin 1 minutes.
Anycubic Photon-S Highlights
---
2.8" Full Color Sensitive Touch Screen for real-time previews of print status
Inbuilt Offline printing
Rapid Slicer- Photon S Workshop.It is superior in terms of slicing speed and operational experience. Ultimate Slice Speed
Matrix UV Lights Upgraded UV Module for stable signal transmission , efficient utilization of resin energy and Amazing Print/cure results
Dual Z Axis Linear Rail for stronger stability.
Anti-aliasing built in to firmware smooths the edge of pixels making the print resolution higher than it actually is.
2K LCD Masking Screen 2560*1440(2K) HD masking LCD gives very fine printing details down to few micrometers
Aluminum Build Platform to enhance adhesion
Creative structure offers more easiness to leveling: Lower the platform down to the screen; Feel the resistance when pulling the paper in-between; Tighten one screw; Leveling done
Dual Filtration System: Inner air-purification system with activated carbon to filtrate bad smell and keep air clean. Dual Fans for Ventilation.
Guaranteed for Noise free 3D Printing.
Suitable for UV Resin.
Anycubic Photon-S offers a SD card reader and USB connectivity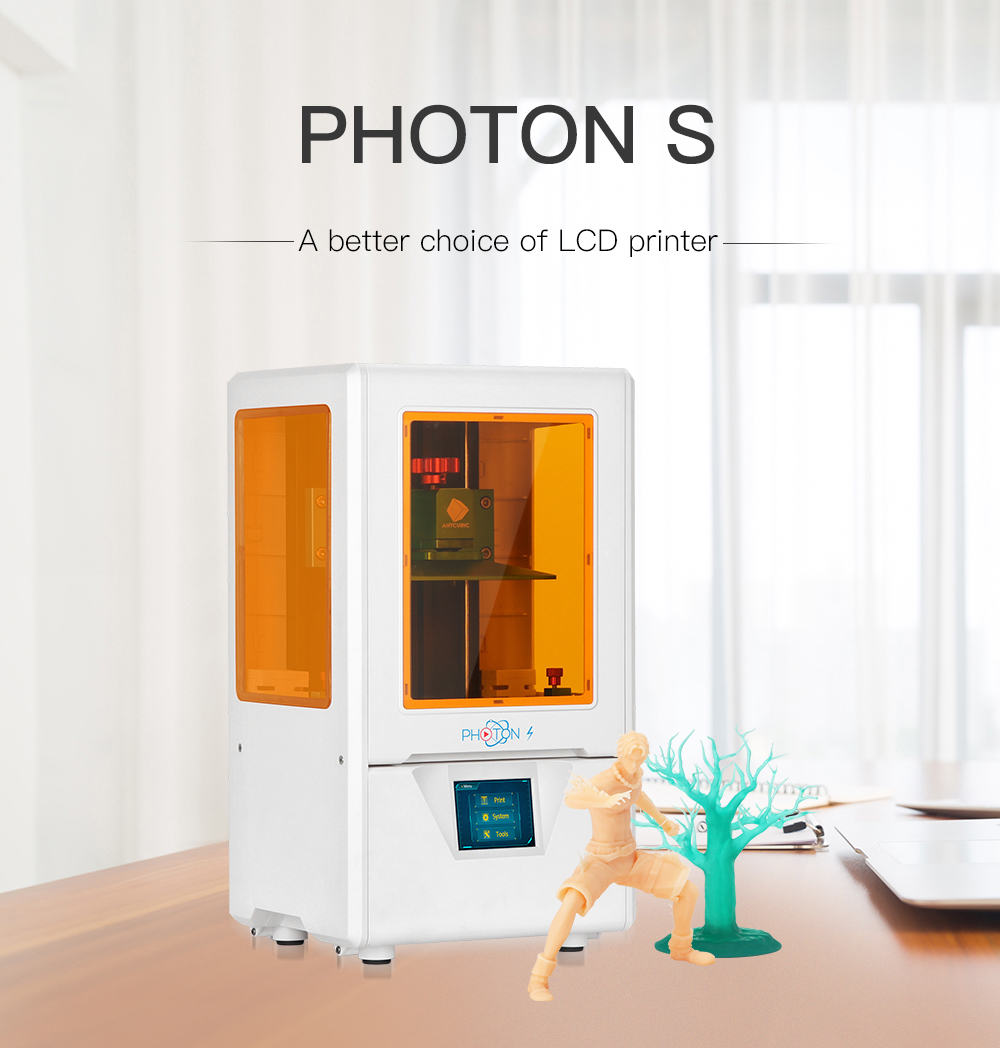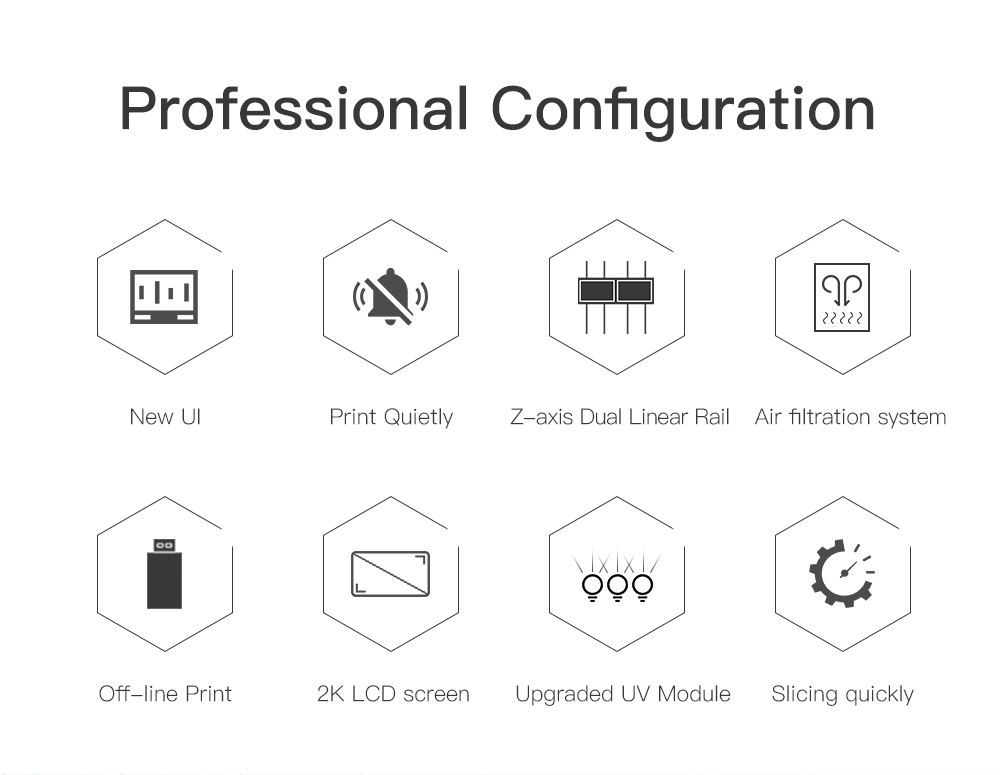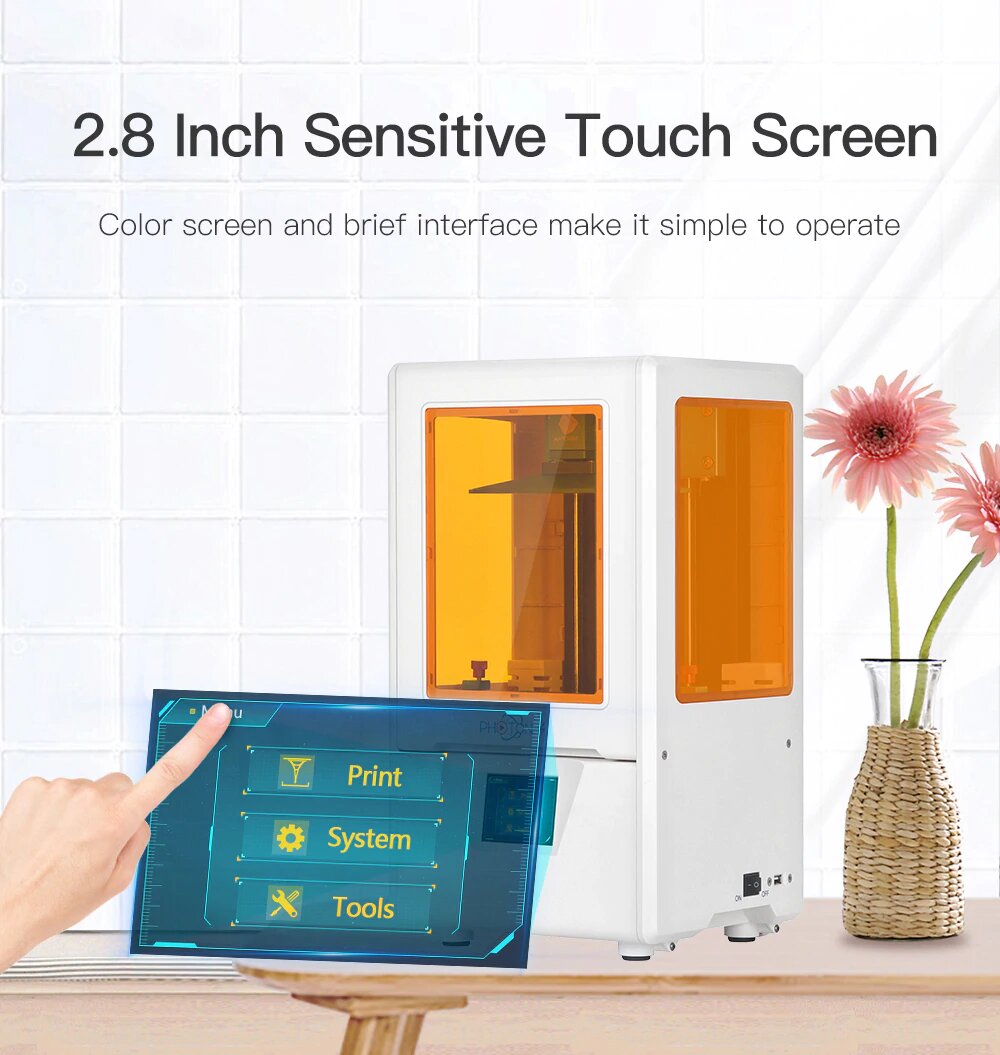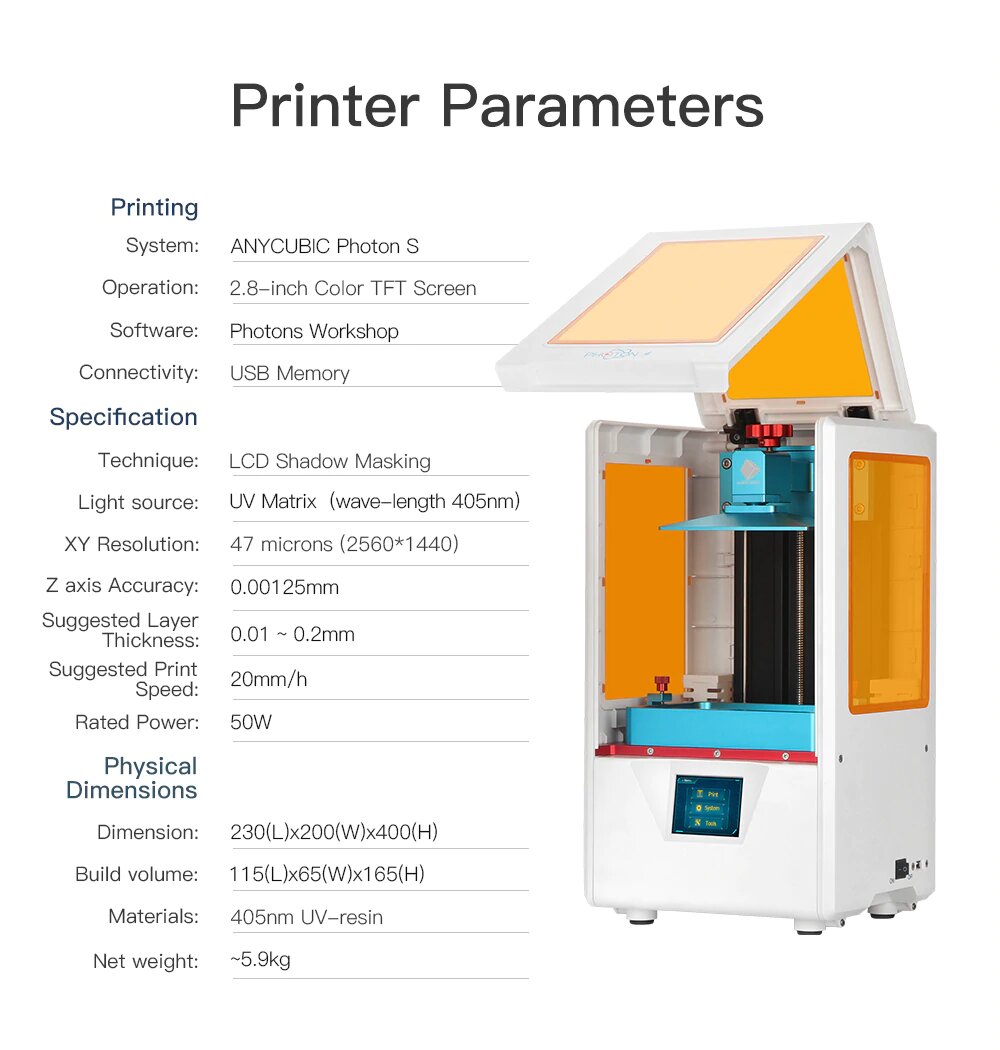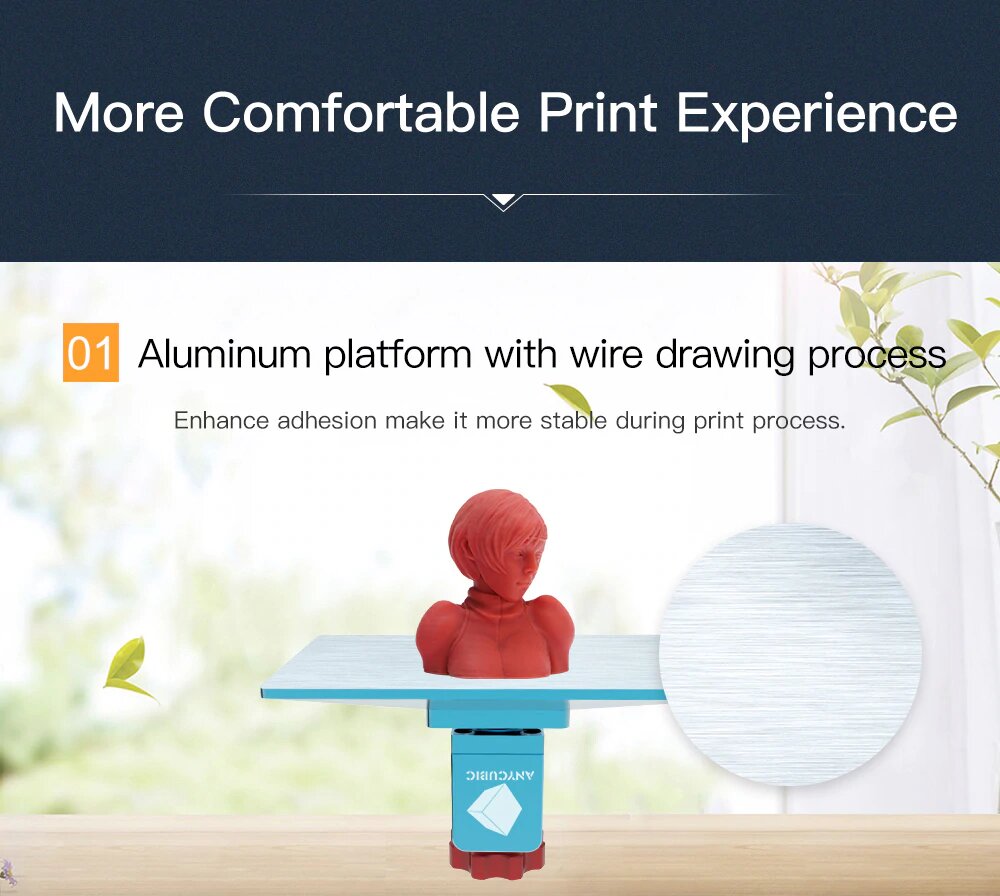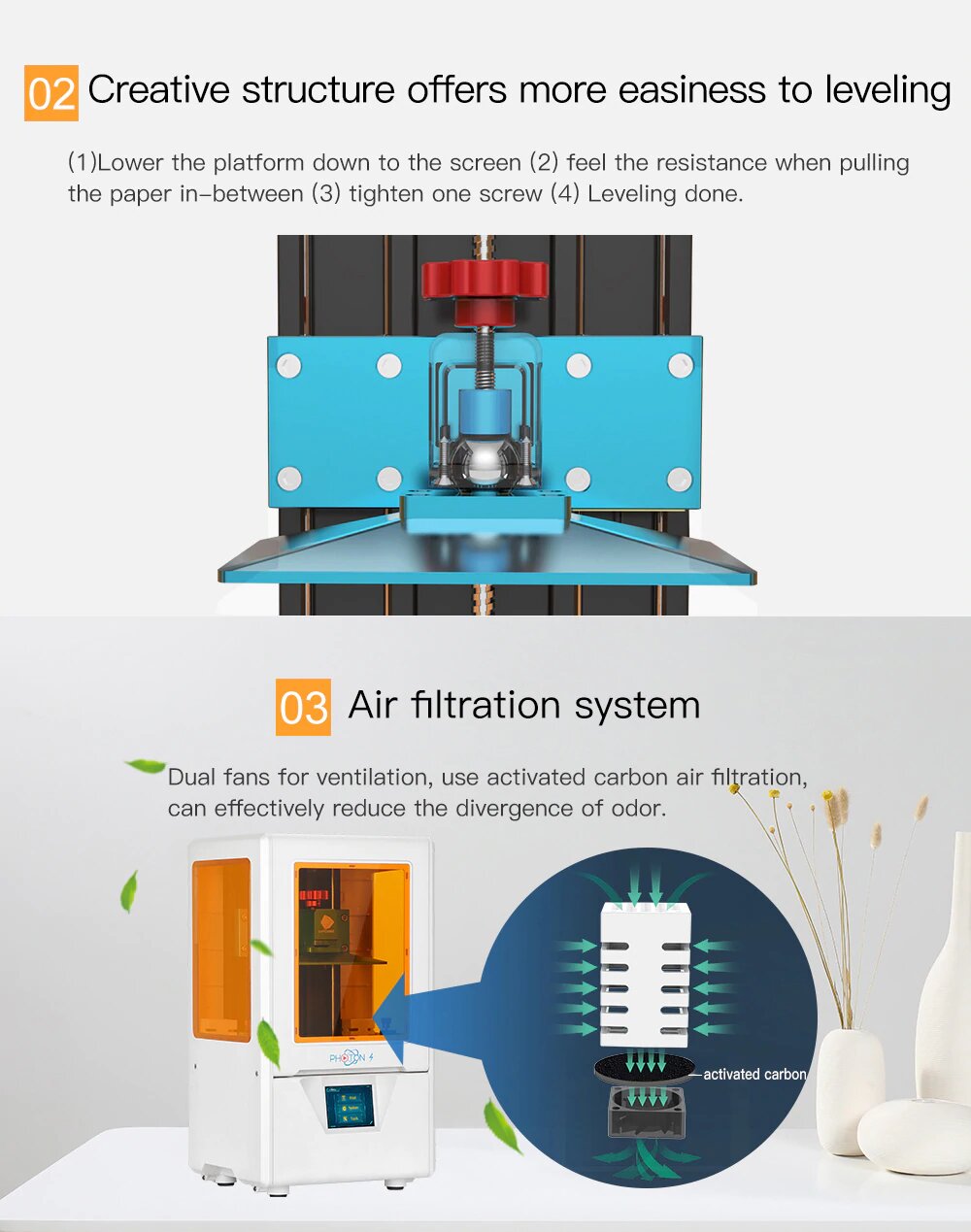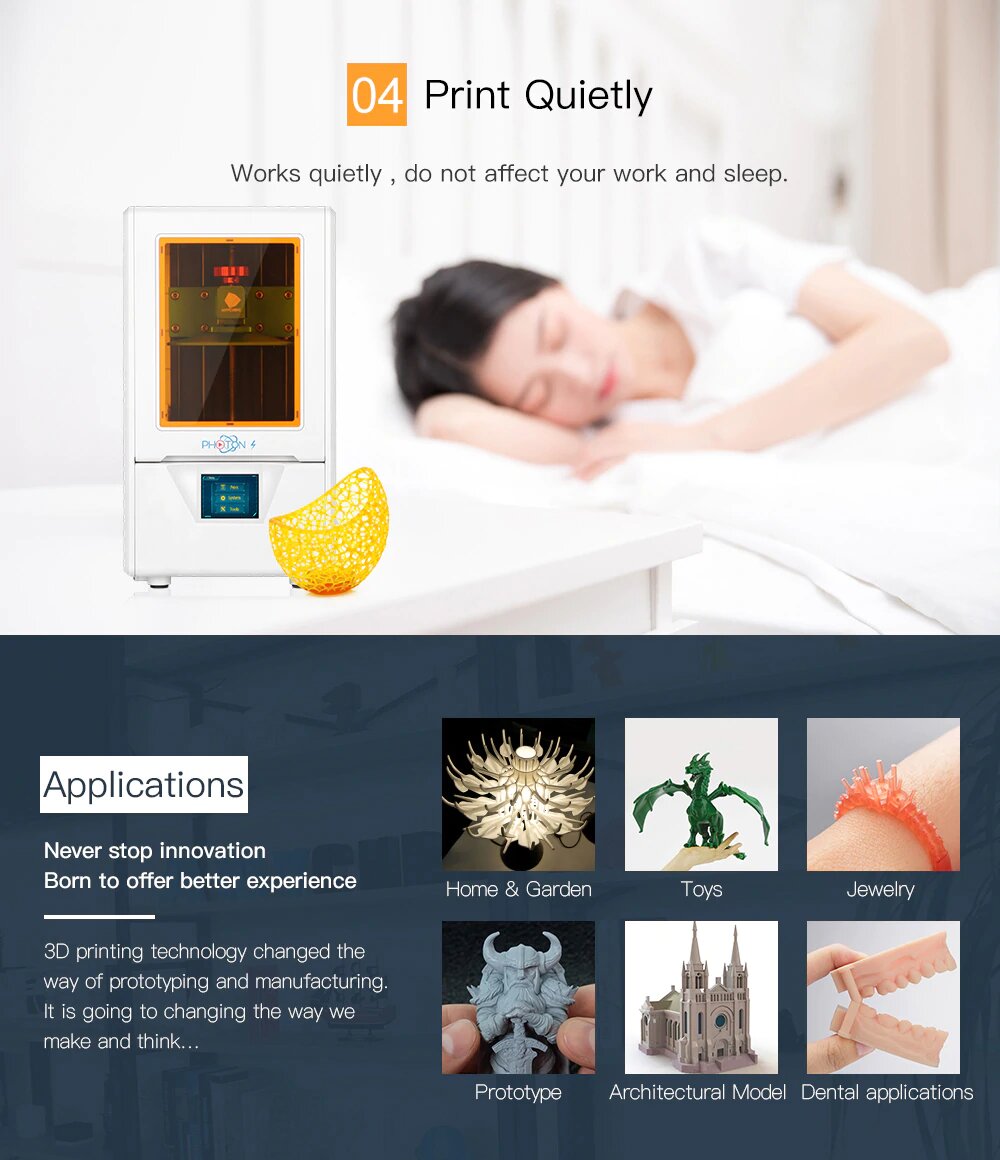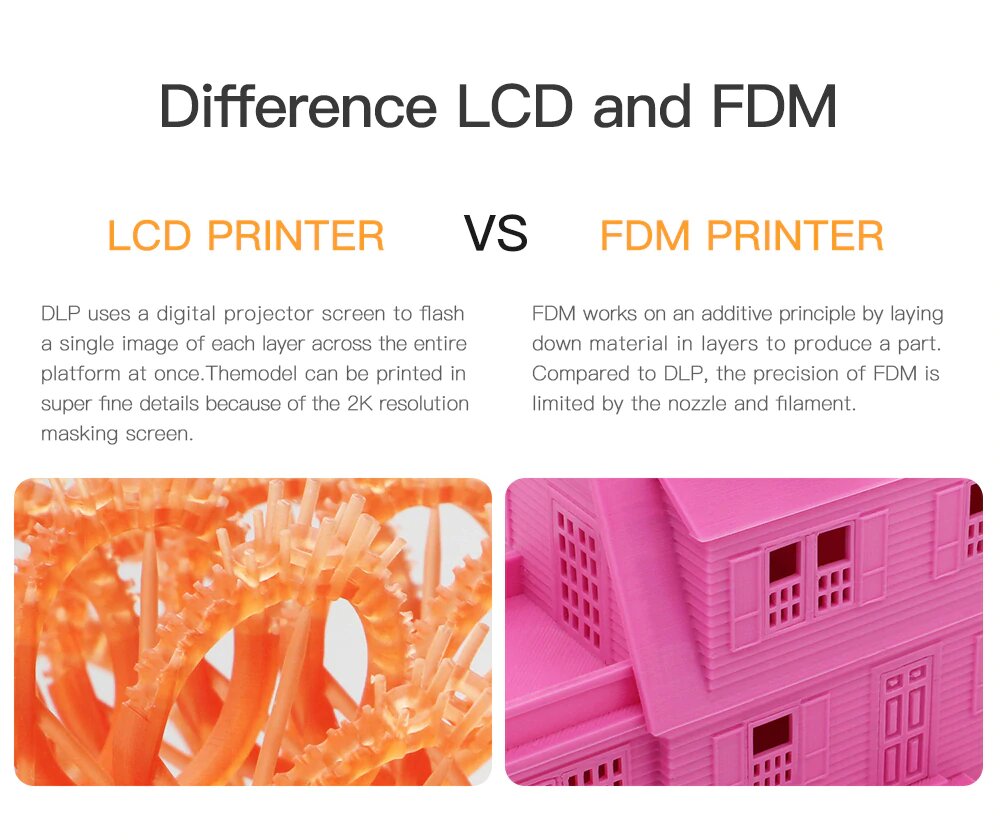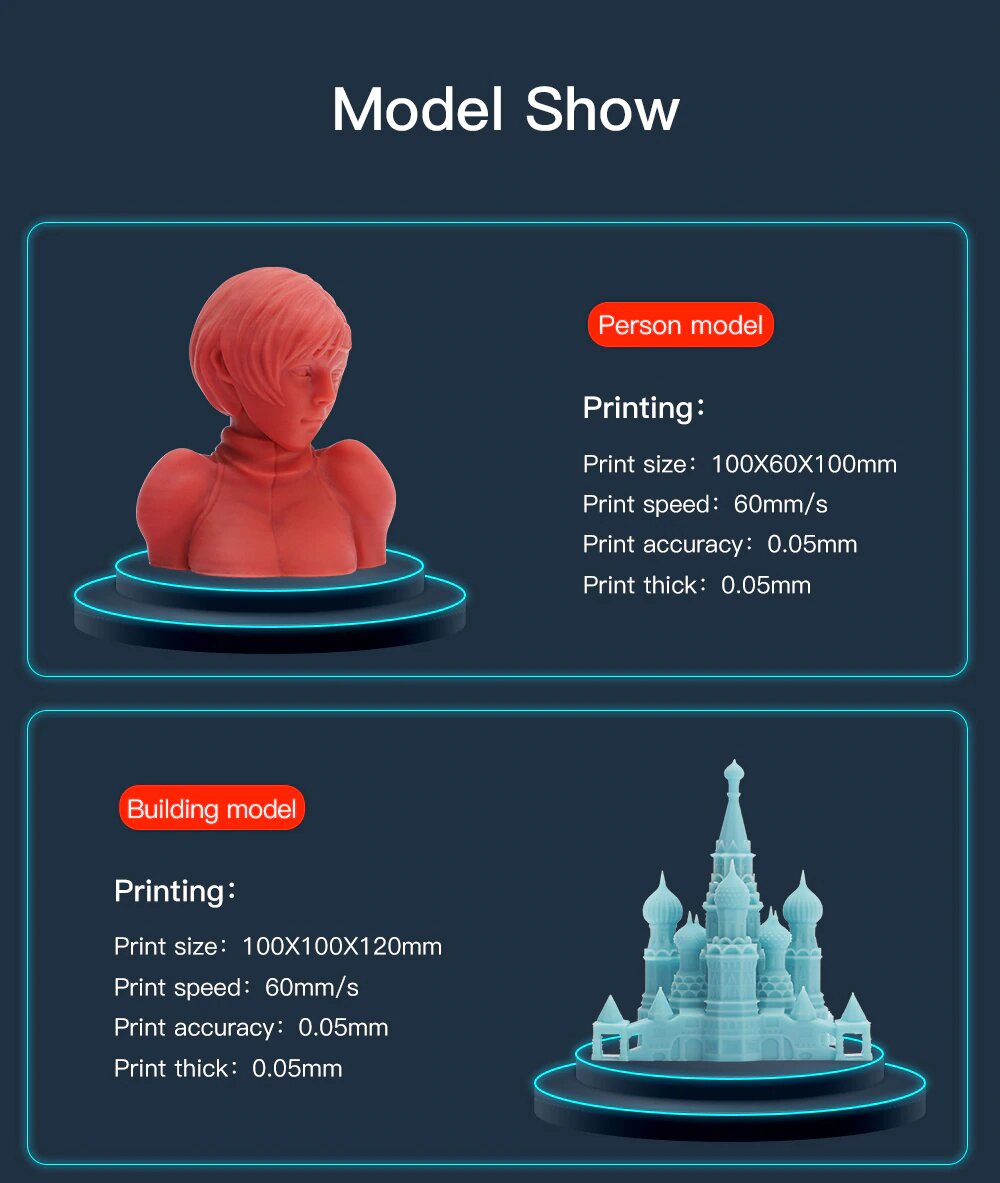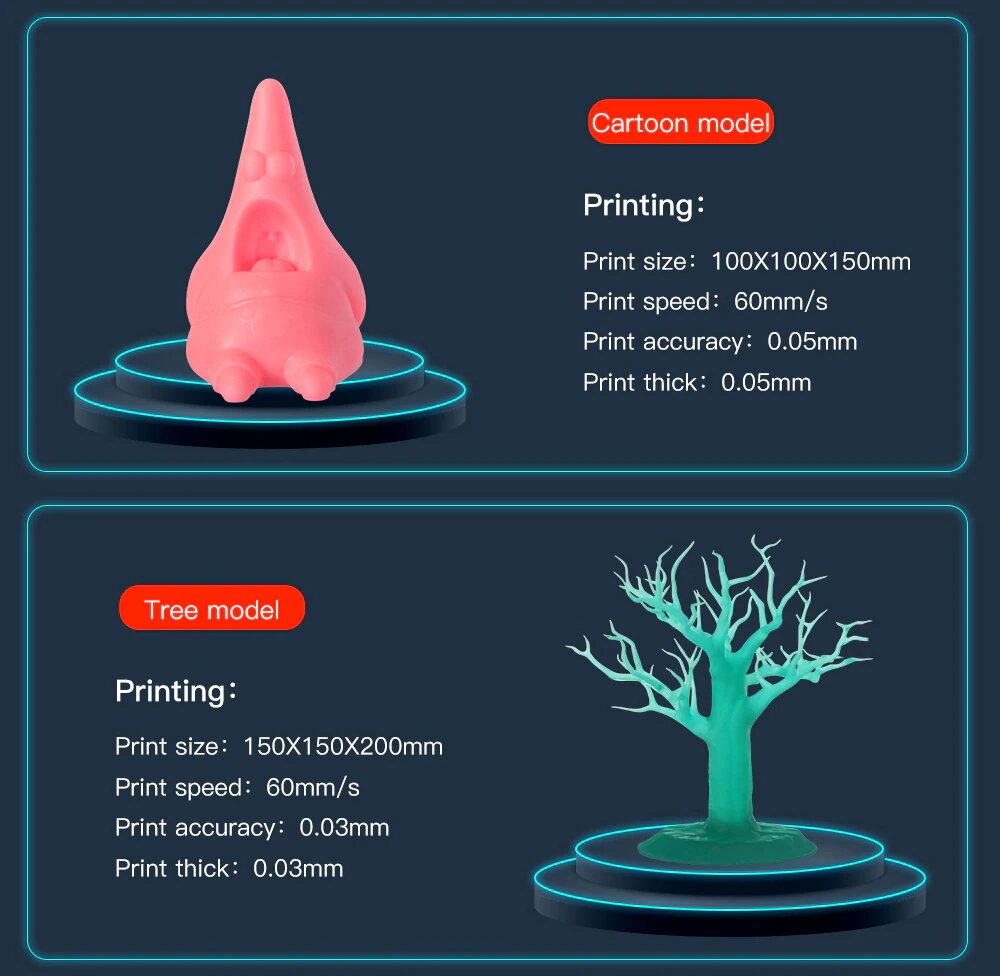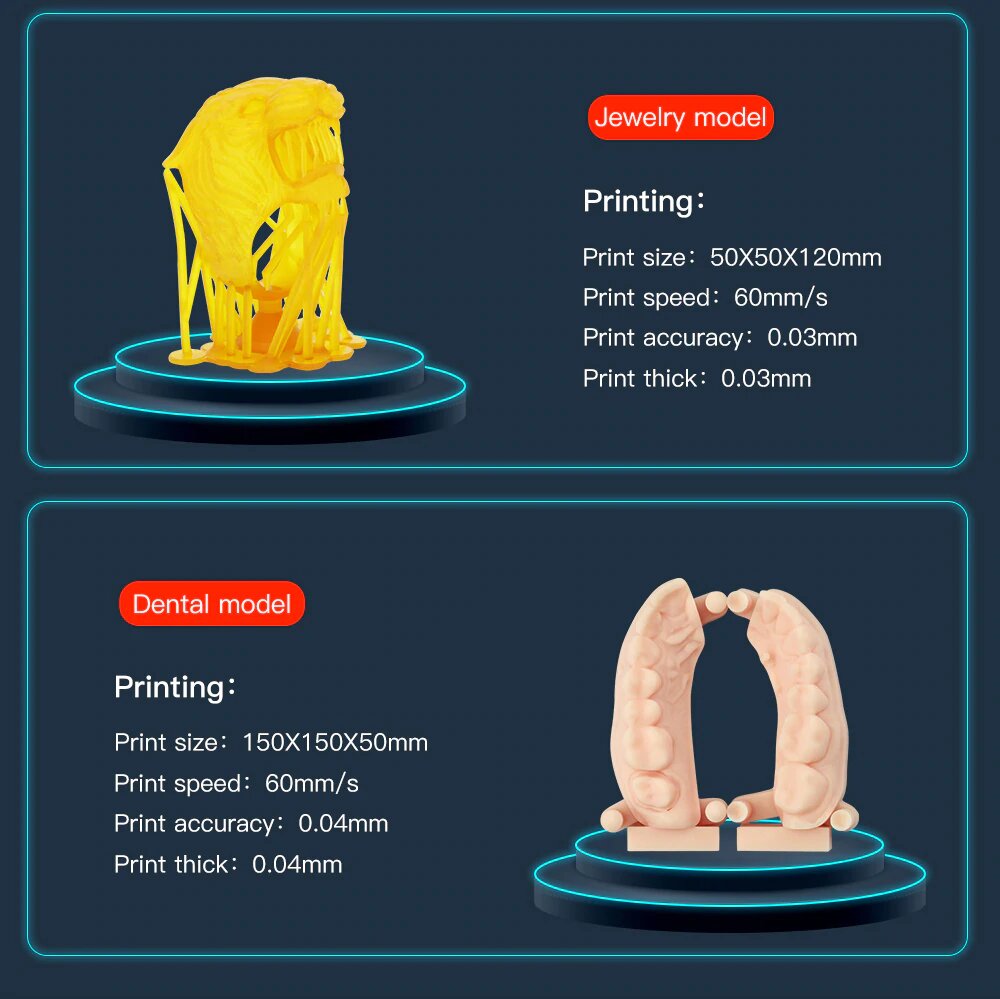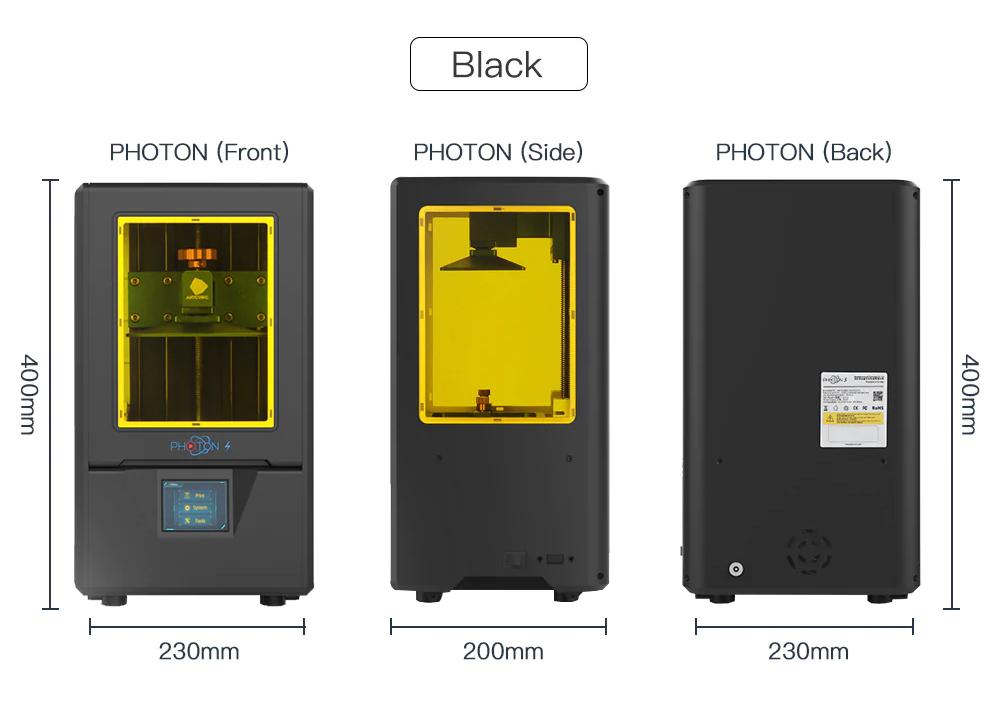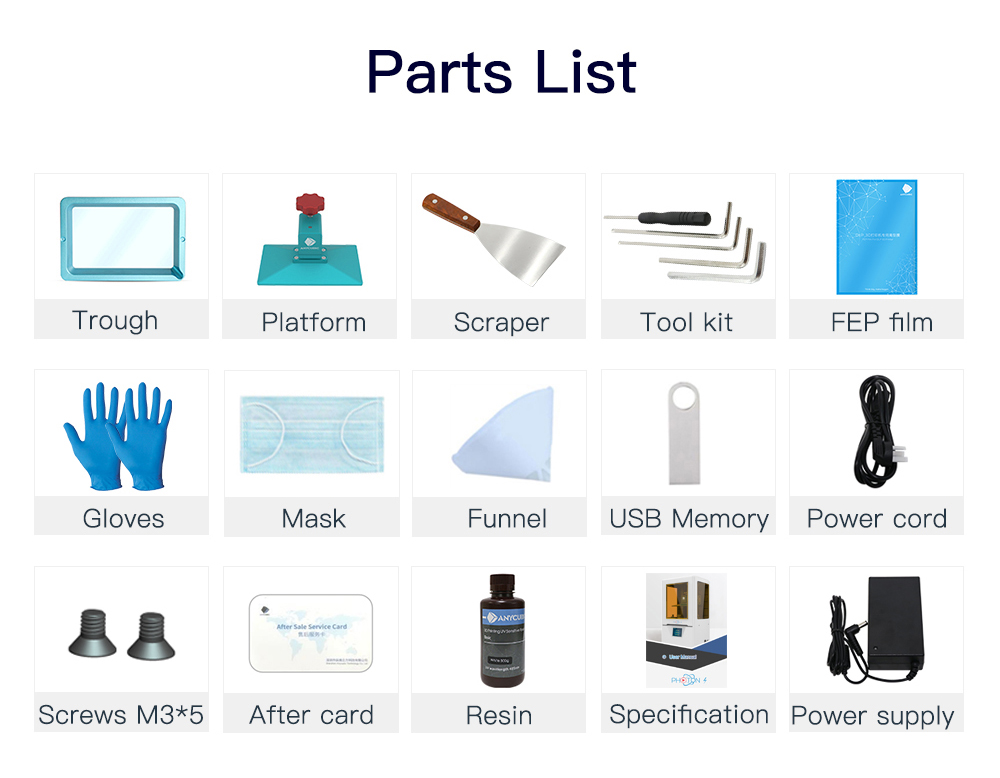 GENERAL
Printing Technology: LCD-based Masked Stereolithography (MSLA)/LCD Shadow Masking
LCD: 5.2-inch 2K
Build Volume: 115 x 65 x 165 mm
Z-Layer Resolution: 10 microns (recommended)
XY Resolution: 47 microns
UI: 2.8-inch Color TFT touchscreen
Connectivity: USB
Build Platform Leveling: Manual
Materials: Resins suitable for 405nm LCD-based printers
SOFTWARE
Bundled software: Photon Workshop
File types: STL
WEIGHT AND DIMENSIONS
Weight: 5.9 kg
Dimensions: 230 x 200 x 400 mm
Everything you need to start printing is included
Anycubic Photon S DLP printer
Resin 250ml bottle
USB Memory
Power Cord
Power Supply
Scraper
Tool kit
Rubber gloves
Mask
FEP Film